2023 European SIFH Summer Conference
Welcome to the FAQ about the 2023 European SIFH Summer Conference.
Here you will find all the necessary information about the conference, including travel tips, speaker bios, the proposed itinerary and more. If you still need help, please get in touch with us at comm[email protected] and we will be happy to answer your queries.
Conference and Hotel Information
CAPTAIN'S CLUB HOTEL & SPA
Resting on the banks of the River Stour, The Captain's Club Hotel & Spa is a 4-star hotel that is home to nautical-themed design, a 2 AA Rosette restaurant and an award-winning spa.
The Captain's Club will be the host for our conference and accommodation for the 4-day event. To book your room please contact the hotel referencing the SIFH conference for special-rated rooms.
Bedrooms are reserved from a classic double through to 2 and 3-bedroom suites. They include a full English breakfast, unlimited wireless broadband, and use of all the hotel's facilities including the award-winning spa (excluding treatments). Special rates ranging from £225 through to a 3 bedroom suite at £720 per room per night are reserved – all with floor-to-ceiling riverside views. In addition, a nearby beautiful guest house is also reserved with large double rooms with seating areas for £150 per night per room.
The hotel is situated on the waterfront overlooking the River Stour in Christchurch. This is a special opportunity to stay in the historic Dorset market town of Christchurch, boasting a harbour, beaches, and nature reserve, as well as historic buildings including the 11th century Grade I listed Christchurch Priory. Enjoy riverside views, fine dining, and activities to suit all tastes.
The Captain's Club Hotel & Spa has electric car charging points.
DRUID HOUSE
Druid House is an immaculate, superbly furnished family-run Christchurch guest house, offering the highest level of accommodation and service.
The guest house is superbly located just a short walk away from the Captain's Club, our conference location, and within walking distance of Christchurch's picturesque quay, shops, pubs, restaurants and Priory.
For reservations please contact Emma at [email protected].
Druid House does not have electric car charging points however nearby at The Captain's Club, our conference location, there are electric car charging points.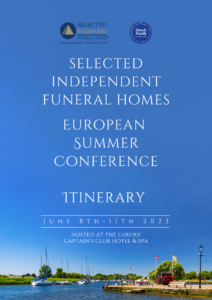 ITINERARY
This is our itinerary for the 4-day SIFH European Conference. We have an exciting schedule with the perfect balance of work and leisure where we will discuss business and also experience what Dorset has to offer.
TRAVEL INFORMATION
We have collected information on how to get to the Captain's Club Hotel & Spa, whether you are travelling via train, air or car. The address of the hotel is Wick Ferry, Christchurch, Dorset, BH23 1HU.
Train
The closest train station to the Captain's Club Hotel & Spa is Christchurch Train Station. It is on a direct line between London Waterloo and Weymouth and is served by Southwestern Railway. From there you can get a taxi from United Taxis on 01202 55667 to the hotel or catch the 1 or 1b bus to the hotel or alternatively walk 16 minutes through the town to reach your destination.
Aeroplane
From Heathrow Airport, you can catch the Heathrow Express to London Paddington Station. From Paddington Station, board the Bakerloo line to Waterloo Station and from there you can get the South Western Train to Christchurch Train Station.
From Gatwick Airport, the quickest route is to board the train from Gatwick Airport Station to Clapham Junction. From Clapham Junction, you get a connecting train to Christchurch Train Station. The journey takes around 2 and a half hours.
You can use Trainline to purchase your train tickets online.
New Century Chauffeurs are leading providers for luxury travel along the Southcoast, Bournemouth, Poole, Southampton, Portsmouth, Devon and London. Their services are able to collect you from the airport and chauffeur you to the Captain's Club Hotel & Spa.
Alternatively, ATH Dorset is an airport transfer company that can collect you from your chosen airport to the Captain's Club Hotel & Spa.
Regional Airports
Southampton Airport has direct flights to and from many UK & European cities. There is a train station Southampton Airport Parkway across the road from the entrance to the airport, with a direct route to Christchurch. Train journey time, approximately 40 minutes.
Bournemouth Airport has direct flights to some European cities. Bournemouth Airport is a 15 minute journey by car to the hotel.
Taxi
The local taxi company is United Taxis. They can collect and drop you off anywhere in the area. Their contact number is 01202 556677.
SPEAKERS
RJ Balson & Son were established in 1515, and have 25 generations of experience, making them Britain's oldest family business. They are a high street butcher in the market town of Bridport, Dorset. According to the Institute for Family Business, it is the oldest continually trading family business in the United Kingdom. It has been in the Balson family since 1515 when Robert Balson rented a market stall on Bridport Shambles. Since 1892, its butcher's shop has been located at 9 West Allington, Bridport, not far from its original location.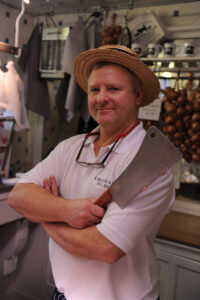 Richard Balson
Richard Balson is the current owner of R.J. Balson & Son. He is the 25th generation of Balson and runs the shop with his French brother-in-law Rudolph Boulay. He will be taking us on a journey back in time from 1515, when they first started, up to the present day.
Speaking to us about how to adapt to modern times. The effect of great customer service, how it differentiates you from the competition, and what the future looks like with sustainable future purchasing.
Andy Headington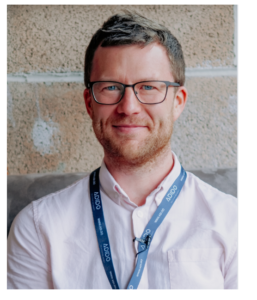 Andy helped set up Adido as an award-winning digital agency in Dorset in 2003. He spent the first few years primarily learning SEO & PPC from scratch and has since gone on to lead a digital marketing team who are commercially driven but also cares about clients and results.
As CEO of Adido, Andy has a vast knowledge of all areas of digital marketing and is a regular blogger, contributor and presenter on all areas of digital. His most specific areas of expertise and interest are search, digital analytics and future innovations in the digital world. He will be covering all of this and more in his talk as well as giving practical tips to help you improve your own marketing going forward.
Pem Paddick
Pem is an HR consultant through her own business, Treenhill Consulting. Her experience covers HR support and outsourcing as well as large-scale HR and personnel projects. She also has first-hand corporate and commercial experience at senior management level.
Chris Dobbs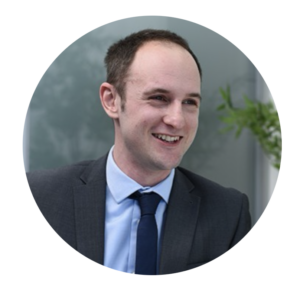 Chris Dobbs is a member of the Employment Lawyers Association and qualified in 2017 having spent two years training at a high street practice.
He joined Frettens in 2019 as part of the Employment Team and is quickly developing a reputation for resolving disputes for claimants, whilst building up his own network with local employers to provide advice and support in employment-related issues.
ACTIVITIES
The Christchurch Priory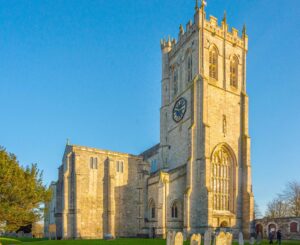 On the Friday of the conference, we will be attending a tour of the Christchurch Priory. A beautiful church, just a short stroll across the Quay from the hotel, whose story goes back to at least the middle of the 11th century. The Priory is on the site of an earlier church dating from 800AD. It is one of the longest parish churches in the country and is as large as many of the Church of England Cathedrals.
The Miraculous Beam of The Christchurch Priory

The legend of the miraculous beam dates to the early 12th century. The story is that a beam was found to have been cut too short when it was hoisted into place. This would have been embarrassing for the carpenters since the wood was expensive and would be difficult to replace. There was however a mysterious carpenter who had worked and eaten alone.
The following day the carpenters returned and found the beam was now fitted in place. The unknown carpenter was never seen again, and the story came to be that it was Jesus Christ who had intervened. The church became Christ's Church of Twynham in commemoration of the event. In time the town became Twynham-Christchurch and eventually shortened to Christchurch. The miraculous beam can be seen today and is located in the Priory's ambulatory.
Remedy Oak will be hosting us for our golfing morning at the start of the conference (optional extra).
Constructed in 2006 and already ranked as the 3rd best golf course in the South of England, Remedy Oak provides one of the most tranquil, secluded and personal golf experiences on the South Coast.
Remedy Oak is set amongst 256 acres of ancient woodland in Horton, Dorset. Meandering through a backdrop of hardwood trees, mature conifers, rhododendrons, heather, wild grasses and with water coming into play on eight holes, the course abounds with the natural beauty of its surroundings.
Their stunning 18-hole, par 72 golf course was designed by the renowned John Jacobs and his team and they have crafted a masterpiece. The course measures 7,010 yards from the back tees. However, with a selection of four tees, golfers of all abilities find the course enjoyable and a fair challenge. Check out the course here.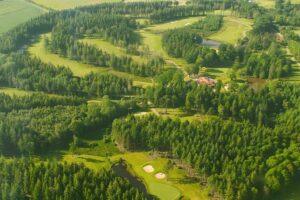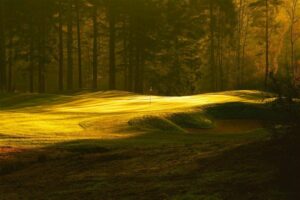 Our friday night, off site dinner will be hosted at the beautiful award winning restaurant, Pebble Beach in Barton on Sea in New Milton. The restaurants menu is created by executive chef Andy Waters, head chef James Bryars and his team. The coastal dining is accompanied with 180 degree panoramic sea views of the Hampshire and Dorset Coastline.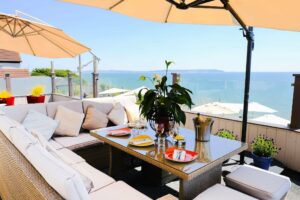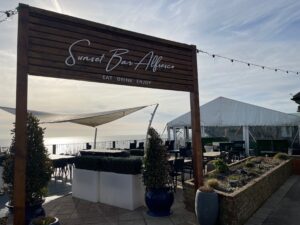 DRESS CODE
Thursday:
Caribbean BBQ Party Attire: Party attire suitable for a Caribbean BBQ.
Get ready to set the mood with vibrant and tropical party attire! Think colourful, breezy outfits that capture the essence of the Caribbean. Feel free to embrace floral prints, linen fabrics, and accessories that add a touch of island flair.
Friday:
Business Sessions Attire: Business attire.
We kindly request all attendees adhere to the event's business attire dress code.
Friday Watersports Attire: Please wear appropriate attire for water activities.
For the watersports activities, we have two options available. You can either choose to wear the wetsuits provided (have you remembered to reserve one with us?), which are specifically designed for water activities and will keep you comfortable and protected, or you can opt for clothes that you don't mind getting wet.
If you prefer to bring your own clothes, please ensure they are suitable for water activities and can withstand getting wet. We recommend lightweight, quick-drying materials that allow for ease of movement.
Your comfort and safety are our top priorities, so please make a selection that aligns with your preferences. Get ready to make a splash and have an unforgettable time with us during the watersports activities!
Saturday:
Saturday Business Session and Boat Trip Attire:
We kindly request that all attendees dress in business attire for the business sessions during the day. However, we understand that time is limited before the boat trip is scheduled for later in the afternoon. Therefore, we kindly ask you to choose business attire that is also suitable for the boat trip, eliminating the need for a wardrobe change.
Saturday Gala Attire: Black tie dress code.
Ladies, get ready to dazzle in your most glamorous gowns and accessories. Gentlemen, don your finest tuxedos or formal dark suits paired with classic accessories. Together, let's create an atmosphere of refinement and elegance that befits this remarkable occasion.
We can't wait to see you shine in your black tie attire, as we celebrate and make memories that will last a lifetime. Thank you for honouring our dress code and contributing to the magic of the gala.
Sunday:
Sunday Brunch Attire: Comfortable attire.
Our goal is to create a laid-back and enjoyable atmosphere, so please dress in comfortable wear that aligns with your personal style and allows you to make the most of this delightful brunch gathering.
Please note that the dress code guidelines are provided to ensure a comfortable and appropriate atmosphere for each event. We appreciate your adherence to the specified dress code for each occasion. Enjoy the conference and the various activities!