A centenary make-over for a much-loved Ferndown business
---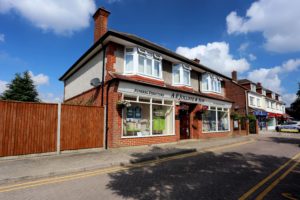 Work has begun in earnest to rebuild a prominent site in Ferndown that will provide all manner of modern facilities.
Douch Family Funeral Directors' AE Jolliffe & Son branch will be 100 years old next year when the build will be completed.
Situated on the main crossroads it is a location that many will know and will see it take shape as they drive past.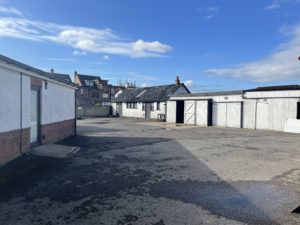 Behind the frontage is a large space added to over the years with buildings in a piecemeal fashion that didn't look great and didn't make good use of the land.
When the project is completed there will be a new service chapel that will include the latest technology, meaning funeral services can be streamed to those unable to attend.
Also on site will be a function room where wakes can be held, enabling families to hold everything in one location – saving cost and hassle.
A 'garden of reflection' will be added, providing a peaceful area for families to remember lost loved ones.
Energy Efficient
Furthermore, great effort has been made to create energy efficiency across the development, with hi-tech modelling used to keep running costs down.
There will be high performance doors and windows along with thermal insulation and a highly efficient ventilation system.
Community Benefit
Nick Douch, managing director of the funeral group, said: "It is encouraging to see the work develop.
"Greendale Construction, the building company, have enabled us to continue working from the premises during the project, which means absolutely no interruption of service.
"Unlike the rebuild we've recently undertaken in Corfe Mullen, we are adapting and extending what we have rather than starting again.
"The work will make more use of what is a large site and will give the families we work with, and the community, much more.
"We wanted to use the space far better than had been the case and while it will take time to complete it will benefit people in Ferndown for generations to come."
Working Together
Rob Hooker from Greendale Construction said: "It's going very well and it will be a wonderful new facility.
"We worked with DMW Architects when we built the new Lesley Shand branch in Corfe Mullen for the same client and it's a great team.
"Scaffolding is up on the main building nearest the road and we've also started work on the building at the rear.
"We are using brick facings, render plus timber features and the location is prominent in the town.
"We also pre-ordered the materials so we have what we need and supply chain difficulties won't affect us."
It is hoped the work will be completed by June next year.
The funeral group runs seven branches in east Dorset, in Wimborne, Parkstone, Swanage, Wareham, Blandford, Corfe Mullen and Ferndown.