A Day in the Life of a Funeral Director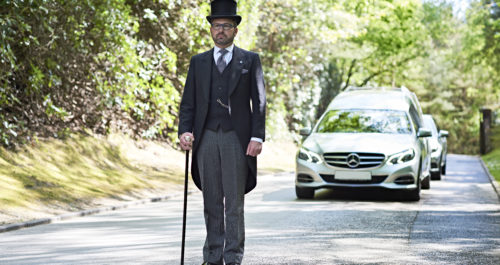 ---
It's not a job that you often see at careers fairs, or one that children talk about wanting to grow up to be, but if you speak to anyone in the industry, they will tell you that being a funeral director is "incredibly rewarding". At Douch Family Funeral Directors, we take our role in a family's grief very seriously, and we take care to ensure they receive the very best advice, service and support.
In our team we have funeral directors across 8 branches. We caught up with Shane Watson, the manager at our Lesley Shand branch in Corfe Mullen and Blandford Forum, to ask him to provide an insight into a day in the life of a funeral director.
What is a day in the life of a funeral director like?
"No two days are ever the same, although we try and arrange our duties for the day in advance, we're often faced with interesting challenges.

The day will normally begin with a team meeting. We go through our diary and prioritise the jobs for the day and the week ahead. Funerals are our number one priority, we confirm any other appointments that are booked in and that we have the staff to cover all duties.

Having two branches, one in Corfe Mullen and one in Blandford, means that each morning we liaise between offices. This is especially important if we do have more than one funeral scheduled for that day. We have to make sure that our funeral cars and staff are organised to a strict schedule. There is only one chance to get this right.

Due to the nature of the job we often have people walk in unannounced. We are well equipped to deal with this and make sure that we are always available to deal with any unforeseen events. Any planned funeral service or funeral arrangement must come first, however we always make time to help anyone who comes in or gets in touch with us."
What are the challenges you face day-to-day?
"Some of the challenges we face are not too dissimilar from other industries, internal challenges such as staff illness.

We're sometimes faced with last-minute alterations or additions to a funeral service for that day. We may need more staff, an extra funeral car because a family have suddenly discovered there are more people attending than they first anticipated or even a last minute viewing.

Whilst this may cause some momentary panic our clients never see this. Working for the Douch Family we know that all eight branches will pull together if there is ever an issue on a funeral. We are proud that we can reassure our clients that, whatever the hitch, we will do everything in our power to give them and their loved ones the best service possible.

One of the biggest challenges we faced in 2018 was 'The Beast From The East.' We all know the major disruption caused by the storm and unfortunately, funerals were not spared from the ensuing chaos. The local Crematoria and Cemeteries cancelled all funeral services, some family members travelling for the funeral were either stranded on trains or unable to get through because of road closures.

Because some of the Douch Family Funeral Director branches have onsite Ceremony Rooms, not all our funerals for that day had to be cancelled.

Perhaps the most common day-to-day challenge we face is that often people come in at need without prior warning. This could be because they have just lost a loved one and they wish to make some enquiries, some people come in because they would like to talk about funeral plans, memorials or even make a donation to a charity. Often this is not a challenge, however if we are already attending to prior appointments, we are not able to provide that person the attention they require.  We reassure the person, who has just arrived, that we will get back to them as soon as possible and ensure that we do. People understand and are happy to wait or schedule an appointment for a later time or day."
What does a normal day look like for a funeral director? 
"There is no such thing as a normal day for a funeral director. The job is so varied and each family so different that we are completely kept on our toes. To help us with this we have set procedures.

If we have a funeral going out on that day the first thing we do is check that all the preparations have been made. We check that all staff know what they are doing and the schedule for the funeral, we make sure that the funeral cars are clean and we check that we have all the necessary items requested (orders of service, donation box and music etc.). We are always looking ahead in our diary to make sure that we are completely organised and ahead of ourselves. That means that if there are any changes we can sort them immediately.

On the day of the funeral we go through an identification procedure; we check nameplates, ID tags and paperwork. We make sure that any jewellery has been removed and given to the family (if requested) or that any jewellery or keepsakes that are supposed to stay, are in place. We check that all floral tributes have arrived and are in the correct position. We also make a courtesy call to the family ahead of time. The family is our priority and we want them to know that no matter what last minute changes or questions they might have we are there to help them. Whatever is requested of us we respond to positively and politely and try to be efficient enough so that we can respond immediately. If we cannot, we make it a priority to find the answer and get back to them as soon as possible.

We aim to make sure that our clients feel in safe hands. We offer support not just throughout the funeral and funeral arrangements but also afterwards. The Douch family run bereavement support groups and we always have information on hand so that visitors feel like they are being taken care of"
How does your job as a funeral director make you feel?
"Working as a funeral director is incredibly rewarding. Working for the Douch Family we get to experience the entire journey, from the first call, the funeral arrangements to the funeral itself. It means that we get to build a real relationship with our clients and shaking hands with them after the funeral service is incredibly satisfying, knowing that you and your team made sure that it went perfectly.

Building up such a good relationship with a family means that we often see them again and again. It means a lot knowing that they feel comfortable coming to us and trust that we will give them great service time and time again. We work like a family and feel like a family and that is so important not just for client satisfaction but also for the staff.

The job not only offers us the chance to work on funerals, it also gives us the opportunity to work in our community. Something that we are passionate about. There is a real community feel to all of our branches and we often put on events to bring people together.

No two days are the same and I wouldn't change it, and I know that my colleagues wouldn't change that either."
To find out more about the funeral services that Douch Family Funeral Directors provide, or to discuss any questions you have, please contact your local branch. There's no obligation and our supportive team are happy to advise.