A Guide To Personalising A Douch Funeral Ceremony Room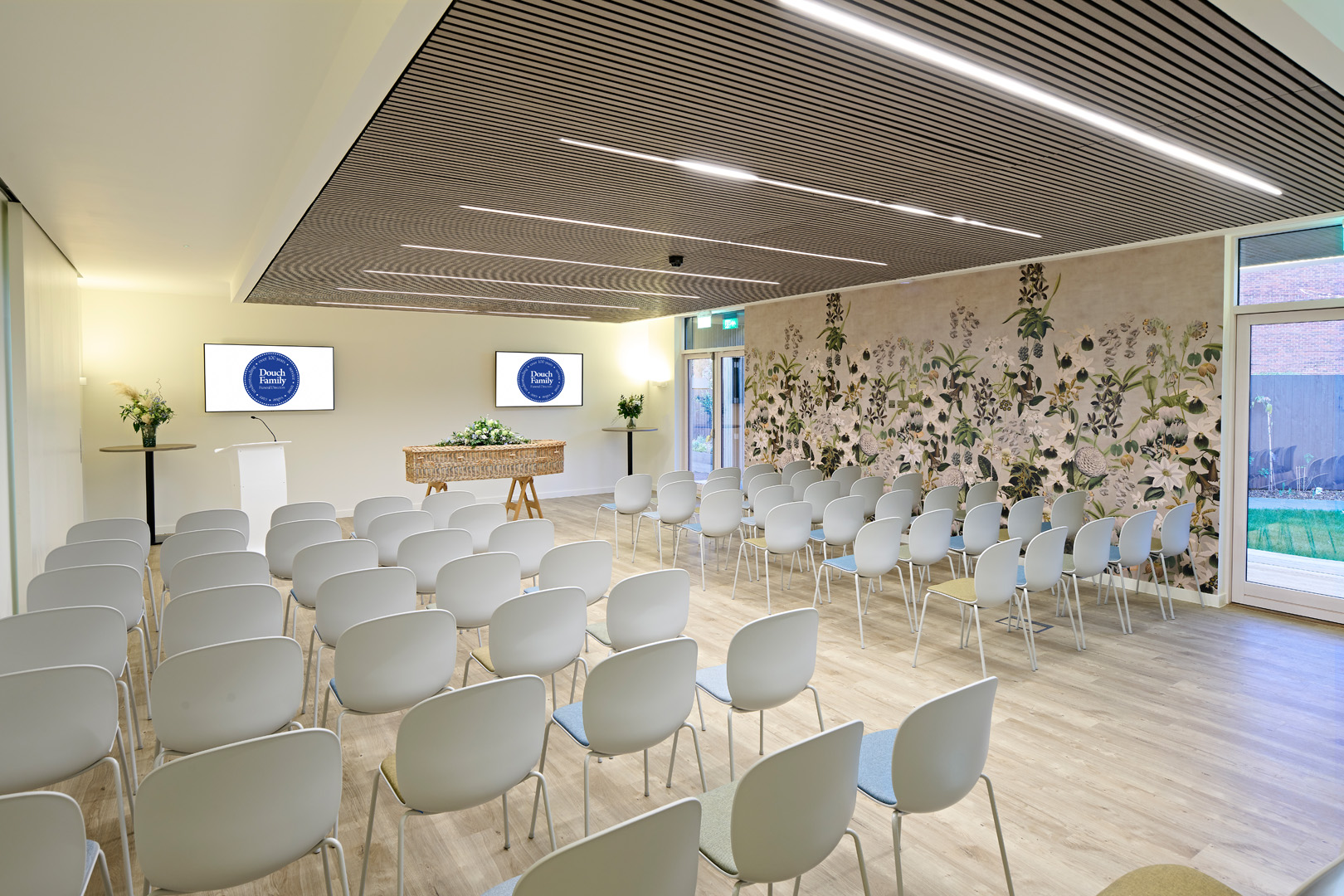 Planning a funeral service can be challenging, but personalising the service can also bring a level of comfort and solace. In particular, being able to personalise the ceremony room offers the chance for a unique tribute to your loved one. At Douch Family Funeral Directors, our purpose-built ceremony rooms provide an option for families who prefer not to have a traditional funeral service in a church, crematorium or burial ground. In this guide, we're exploring the different ways these rooms can be personalised to create a touching tribute.
A Formal Or Informal Layout
The layout of a funeral ceremony room can play a large part in the overall atmosphere of a service. Considering whether a formal or informal layout aligns best with your loved one's personality can be a poignant way of introducing a touch of their character.
A formal layout typically involves rows of chairs facing a central focal point and is most suitable for traditional funeral services. An informal layout on the other hand can create a more relaxing and intimate atmosphere. Arranging seating in clusters or circles encourages interaction and sharing of memories among attendees. All our ceremony rooms at Douch Family Funeral Directors have plenty of space and are able to comfortably provide for either layout.
A Dedicated Space For Photos And Reminiscent Items
Incorporating a dedicated space for photographs and reminiscent items within the ceremony room is another powerful way to honour the life of your loved one. Arranging photos in chronological order or thematically to tell a story can provide a visual representation of their journey. You could also include objects or possessions of sentimental value, such as their favourite books, artwork, or items related to their hobbies and passions.
If you would like to include a dedicated area for a visual display during the funeral service, please speak to us and we can guide you through the process. We have ceremony rooms available in Ferndown, Corfe Mullen, Parkstone and Blandford.
Large Screens For Visual Tributes
Our ceremony rooms at Douch Family Funeral Directors provide a large screen for multimedia visual tributes. These can be used to create compelling slideshows or videos that showcase significant moments and memories of your loved one's life. Include photographs, videos, and meaningful messages to celebrate their journey.
You could also consider live streaming the funeral ceremony for those who cannot attend the cremation or memorial service in person. This allows distant family and friends to participate and feel connected to the event.
Surround-Sound Music Systems For Audio Tributes
Sound and music play a significant role in setting the emotional tone of a funeral service. Curating a playlist of meaningful songs that evoke fond memories, or pieces that reflect your loved one's personality, can create a rich and moving auditory experience. Our ceremony rooms come with full surround-sound music systems to ensure clear and high-quality audio.
Separate Catering Spaces
Providing a catering space for the funeral service allows attendees to gather and find solace in shared moments of support and reflection. We can arrange for a range of refreshments from simple snacks to a full buffet. We'll be happy to guide you through the choices and enact your wishes to bring the event together.
Funeral Ceremony Rooms At Douch Family Funeral Directors
We understand that personalising a funeral ceremony goes beyond just the physical layout. It is the creation of an environment that reflects the life and personality of the departed. At Douch Family Funeral Directors, we will do everything we can to support you during this time and create a funeral service that provides a meaningful and lasting tribute.
To find more information on our range of funeral ceremony rooms, please visit the dedicated page on our website. You can also speak to us directly to discuss the different services we can offer. Contact a member of our friendly team by calling us on 01202 367307. We have funeral ceremony rooms in Ferndown, Corfe Mullen, Parkstone and Blandford.