Broadstone Cricket Club on the front foot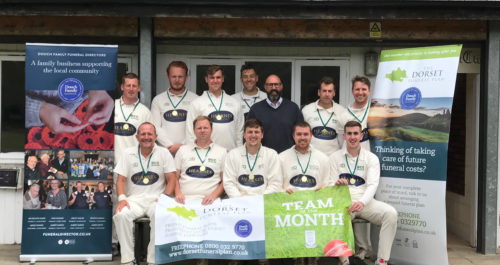 ---
Broadstone Cricket Club's first XI picked up the team of the month award for July – after four straight wins.
The team pushed themselves into third spot in the Dorset Funeral Plan Premier League.
During the month they defeated Shroton, Dorchester, Wimborne and Colehill and Martinstown.
Rupery Oakley from sponsors The Dorset Funeral Plan, presented the team with a trophy, medals and a bottle of bubbly.
The team, which plays home games at The Delph, are targeting a top three finish.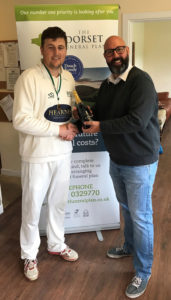 Skipper Luke Carter, whose runs were important through July, said: "We came fifth last year and wanted to improve on that.
"July was a great month with James Park and Dan Cook making plenty of runs. Both made about 200 during the month.
"We also beat league leaders Dorchester, which means we have beaten them twice this year.
"The wickets were spread around with Mike Holm, Matt Spraggs, Steve Trembath, Ashley Collison, Pete Russell, Pete Thompson and Caleb Rowe all contributing.
"And the bowlers were well backed-up in the field."
Rupert Oakley from the sponsors said: "It is a highly competitive league with Dorchester and Poole leading the way with Broadstone hot on their heels.
"To go unbeaten through July – including a win against Dorchester – meant Broadstone first XI were worthy winners.