How's that! Cattistock are team of the month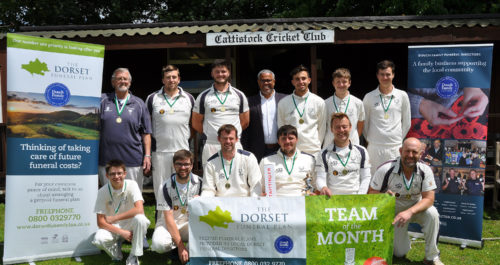 ---
Cattistock Cricket Club won the Dorset Funeral Plan team of the month award for May after four straight wins.
A young side defeated Broadstone IIs, Cerne Valley, Swanage and Weymouth during the season's opening month.
Nick Douch, managing director of Douch Family Funeral Directors which runs the Dorset Funeral Plan, presented the team with trophies, medals and a bottle of bubbly.
Club skipper Bradley Damen said: "We have worked very well as a team, but Liam Toohill with the bat and Ollie Legg with the ball have been superb.
"And we have also fielded very well, taking lots of important catches.
"Our team is quite young and the challenge now is to keep up this form for the rest of the season."
Nick Douch, who presented them with their awards prior to the home match against Shillingstone, said: "Several sides throughout the leagues performed well, but Cattistock were flying throughout May.
"Last year we were in the middle of a very hot spell and this year we've had plenty of rain so conditions are much different.
"We're seeing slightly greener wickets and this presents its own challenges.
"Cattistock has a lovely ground and I was very pleased to present them with their awards there.
"I'll look forward to seeing how they do for the rest of the season as I expect promotion to the Premier League is in their minds."