How To Choose The Right Coffin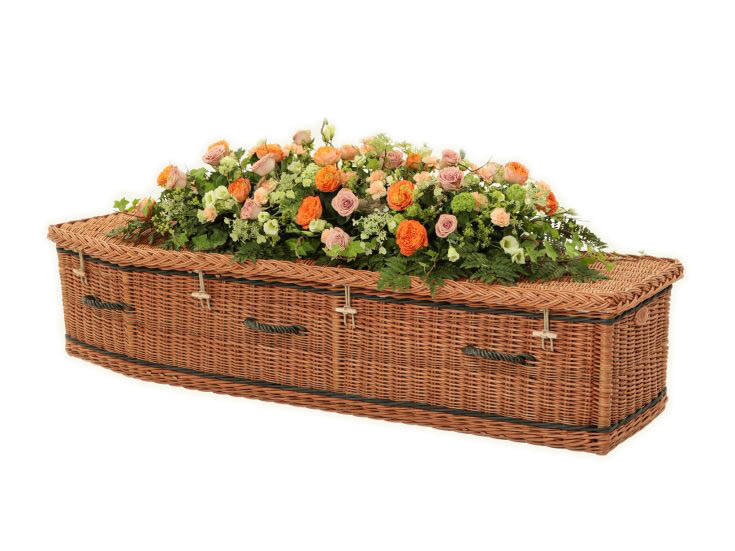 The process of saying goodbye to a loved one is undeniably one of the most challenging experiences in life. Amidst the emotional turmoil, the need to make practical decisions selecting the right coffin or casket can often be overwhelming. To ease some of this burden, we've put together a guide to help you choose a coffin that honours the memory of your loved one. Whether it's a traditional coffin, eco coffin, or even a personalised coffin, there are a range of different options available to reflect your loved one's personality, values, and legacy.
Different Types Of Coffins & Caskets
At Douch Family Funeral Directors, we have a wide selection of coffins and caskets available. These cater to a diverse range of preferences and values and can be broadly categorised into three types: traditional, eco-friendly, and personalised designs.
Traditional Coffins & Caskets
Traditional coffins are designed with timeless elegance in mind. Crafted from high-quality materials such as metal, mahogany, or oak, these options are a tribute to a classic funeral style and are therefore suitable for those who prefer a more conventional approach to funerals. The various finishes available for traditional coffins reflect a sense of dignity and respect.
Eco-Friendly Coffins & Caskets
For those who prioritise environmental sustainability, eco-friendly coffins – or biodegradable coffins – are an excellent choice. These are constructed from rapidly renewable materials such as willow, bamboo, and banana leaf. Opting for an eco-friendly, biodegradable coffin reflects a commitment to reducing one's carbon footprint and leaving a positive impact on the planet.
Personalised Coffins & Caskets
Every person is unique, and their final resting place can be an extension of that individuality. Personalised coffins allow you to celebrate the life of your loved one in a distinctive way that honours their unique nature. These coffins can be customised with photographs, paintings, or designs that resonate with their passions, hobbies, and achievements. It's a beautiful way to create a lasting tribute that captures the essence of the person.
Selecting The Right Coffin: Considerations & Advice
Choosing the right funerary service and coffin involves thoughtful consideration. Here are some key factors to keep in mind:
Budget – The prices of coffins and caskets can vary significantly based on the materials and design. It's important to establish a budget early on and explore options that align with what is reasonably affordable. Keep in mind that a higher budget might open up more choices, including intricate designs and premium materials such as with traditional coffins.
Personal Values & Beliefs – Consider the preferences and beliefs of the deceased and their family. Some may feel strongly about using biodegradable materials, such as with an eco-friendly coffin, while others may prefer a more traditional style. The choice should reflect the values and wishes of the individual.
Personality & Passions – Creative and personalised coffins provide an opportunity to celebrate the person's life. Think about their hobbies, interests, and accomplishments. Custom designs can incorporate elements that hold sentimental value.
Environmental Impact – If sustainability is important, explore the range of eco-friendly and biodegradable coffins These options offer a way to make a positive impact even in the final stages of life.
Aesthetics – The aesthetic appeal of a coffin matters. Consider the design, colour, and finish that resonates with your loved one's personality. The coffin should evoke fond memories and feelings.
Douch Family Funeral Directors
As you navigate through this challenging time, remember that choosing the right coffin is a meaningful step in the grieving process. Whether you opt for a traditional, eco-friendly, or personalised design, the selection you make will serve as a lasting tribute to the unique life lived. We have a wide choice of coffins and caskets, ensuring you'll find a perfect option that serves in both memory and celebration.
To find more information on the range of services we offer, please contact us directly and we'll be happy to help in any way we can. Our friendly team can be reached calling 01202 367307, or you can also browse our full range of funerary urns and keepsakes online