Puddletown rise to the top in wet May
---
Puddletown Cricket Club – team of the month for May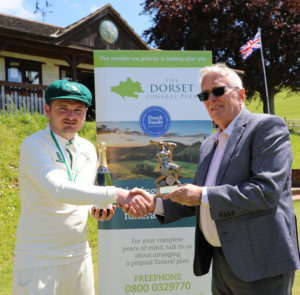 Newly-promoted Puddletown Cricket Club won the season's first 'team of the month' award after a string a victories during May in the Dorset League Division 1.
Now in a higher division, the team is playing home matches at Plush while its own grass wicket is prepared.
Neither the new surroundings or the inclement May weather could slow Puddletown's progression to the top of the league.
During the month, the club's first team beat Compton House, Portland RT, Stalbridge and Beaminster – their match against Weymouth the only one cancelled due to the weather.
The sponsors, The Dorset Funeral Plan, presented the players with medals, a trophy and a bottle of bubbly.
Puddletown skipper Adam Barrett said: "We were lucky to get four out of our five games on with all the rain.
"The groundsman at Plush has done a great job getting the pitch ready for us and after being promoted last year we're delighted with the start we've made.
"It's been a real team effort but James Mitchell with the bat and Adam Weir with the ball have been particularly effective.
"We just hope we can keep this form up through the season."
Peter Douch from the sponsors, The Dorset Funeral Plan, said: "Puddletown are worthy winners – unbeaten and without home advantage.
"Their new pitch will be laid later this year so they'll be back there for next season.
"After missing most of last year it's been important that the leagues get a full season in and it's started well with lots of competitive games."