The Advantages Of Eco Coffins And Their Rise In Popularity
---
In a world where our environmental footprint is a concern for many, more and more people are opting for eco coffins over traditional ones. It may surprise you but traditional coffins have more of an environmental impact than many of us first considered, and if this is something you're conscious of, eco-friendly coffins can help to ensure a funeral and burial is as environmentally friendly as possible.
What are eco coffins?
Eco-friendly coffins are made of sustainable and biodegradable materials, such as bamboo, banana, pine and willow. By using materials that are grown and harvested sustainably means that eco coffins have a lower impact on the environment. Unlike traditional style caskets which are treated with formaldehyde and usually contain metal or plastic fittings, biodegradable coffins do not and are left untreated so that they will naturally degrade at a faster rate than traditional options.
Why should you choose a willow coffin?
Wicker style willow coffins are an incredibly sustainable alternative to other coffin materials. Willow is one of the fastest-growing plants, producing a lot of biomass in a relatively short space of time. It is this that makes willow coffins a renewable crop and therefore extremely environmentally friendly. It is also native to the UK making it a far better material for anyone looking for eco coffins in the UK.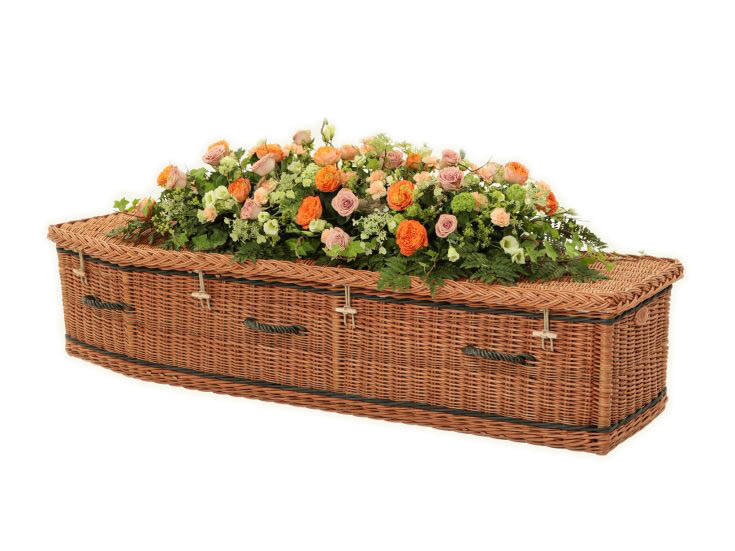 Simply woven from willow using a technique that has been around for centuries, these biodegradable coffins are strong and can be fashioned into a variety of pleasant shapes and designs. For anyone arranging a funeral, it's important that saying goodbye to your loved one is respectful and still has a traditional burial feel, whether you're holding a non-religious funeral, woodland burials or cemetery burials. With skillfully woven willow coffins you need not worry about this; they're both natural and beautiful.
Can willow coffins be cremated?
Willow coffins can be used for burials or cremations. Willow burns at a very high temperature, something which is key during a cremation process. Due to these properties, it is a highly reputable and reliable wood. Because willow grows quickly and can be harvested annually, willow coffins are sustainable and popular for use at cremations.
Where can I get eco willow coffins?
At Douch Family Funeral Directors, we supply a variety of natural willow coffins that are sourced from Somerset Willow. The fourth-generation family business has been growing the highest quality willow since it was founded in 1959, using only traditional methods, they're the UK's best basket manufacturer. All their willow coffins are handcrafted and are available in traditional or curved shapes and a variety of colours. Somerset Willow will also help you if you require a bespoke size or style, so you shouldn't need to be concerned about whether it's possible to find the right one for your loved one.
If you'd like to find out more about eco-friendly coffins, get in touch with us. Contact us today on 01202 882 936 or send us an email to [email protected] to discuss our funeral packages.