TV Legend's Funeral Held In Poole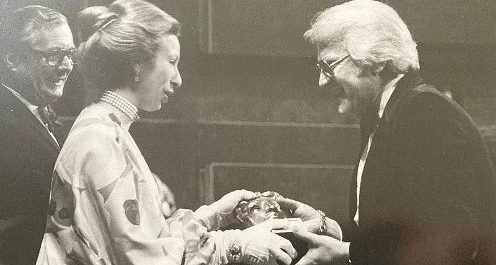 ---
The funeral of one of TV's most successful producers and directors has been held in Poole after he passed away from Covid at a Ferndown nursing home.
Flamboyant Peter Harris was responsible for some of the small screen's most popular shows including Bullseye, the Muppet Show, Sesame Street and Spitting Image.
He discovered Lenny Henry on New Faces, worked on Celebrity Squares, Tiswas, Family Fortunes, Crossroads, Fifteen to One and numerous other shows in a glittering career spanning five decades.
Born in Gosport, Bafta-winner Peter spent his life in the Midlands before moving south in 2018 to be near family.
He lived with his civil partner Drew and latterly suffered from dementia. He died aged 85.
Only a small number of mourners was allowed to attend Poole Crematorium for his funeral, arranged by AE Jolliffe & Son, part of Douch Family Funeral Directors.
But stars lined up to remember him with Chris Tarrant saying: "He was extraordinary; one of the most talented people I have ever worked with.
"I'm pretty sure I would not have stayed in television without Peter Harris."
Denise Sherer, Peter's sister-in-law, said: "Peter and his partner Drew – my brother – came down in 2018 because they needed someone to look after them, and I've been here since 1976.
"He began as a floor manager then became a stage director and then director and producer and was very successful.
"He was a lovely and really likeable man, but was very strict about the way he worked.
"I remember when he got my children onto Tiswas when Shawaddywaddy played and we have many wonderful memories.
"In recent years he suffered from Alzheimer's and had kidney disease and died from a nasty strain of Covid.
"Despite numbers being restricted the funeral was a celebration of his life, and we had messages from lots of famous people whom he had worked with over the years.
"The service was broadcast so those who were unable to attend were able to pay their respects.
"Jolliffes the funeral directors were amazing and provided a Rolls-Royce hearse so he could go out in style. He loved driving his."
Peter's wish was that his ashes should be scattered with his mum and dad in Portchester.
Donations in Peter's memory are for the Alzheimer's Society or RSPCA and can be made via www.funeraldirector.co.uk/peter-harris
---
Gallery