AT REST IN NATURE'S MOST MAJESTIC DOMAIN – SCATTERING ASHES AT SEA
There's a comforting 'completeness' in returning a loved one's ashes to the sea, to where all life began. Scattering ashes at sea is a service Douch Family Funeral Directors have the privilege to offer.
On board Calypso Charters' classic luxury motor yacht 'Trader 475 Signature' – and whilst taking in the most beautiful spots Poole Harbour and The Purbeck coastline have to offer – you can say a unique farewell, joining their cremated remains with the serenity of the sea with a scattering ashes at sea ceremony.
PLEASE NOTE: CURRENTLY CALYPSO CHARTERS ARE FULLY BOOKED UNTIL MID-SEPTEMBER.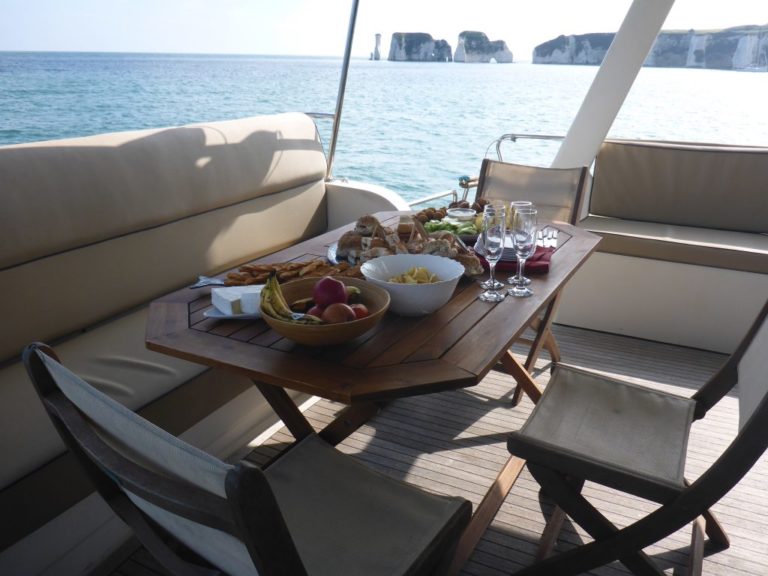 The luxury yacht smoothly accommodates up to a maximum 12 guests. Your skipper and crew know the waters well. The Captain is also a Minister/Celebrant who can say a few words if required, at no extra charge. And you can choose catering to suit the send-off.
In the respectful company of the Douch Family Funeral Directors and Calypso Charters – and sharing a final journey made by mariners across the centuries – you have ample space and time to relax, reflect and toast a life well lived.
You will have the opportunity to say goodbye to your loved one. By placing their ashes, contained in a biodegradable urn, into the sea, you are returning them back to nature. (Please note the urn is an additional cost.)
THE DETAILS THAT MAKE A FITTING FAREWELL
A warm welcome on board with a glass of sparkling wine or juice.
Light lunch or afternoon tea. (An alternative menu can be arranged.)
A charter of approximately two-and-a-half to three hours. (Or longer on request.)
Service and respect from a fully trained crew.
Fitting words, readings and prayers from the on-board minister/celebrant while scattering the ashes at sea.
Collage video keepsake based on photographs of your charter.
All included at a cost of £350 for up to six guests (children or adults). Additional guests, up to a maximum of 12, incur an additional cost of £40 per head. (Children under the age of 12 half price ie £20.00)
Peak Season
During the peak season, it is sometimes difficult to arrange a 2.5hr charter due to demand for a full days cruise. The cost of a full days charter to include scattering your loved ones ashes are:-
Full day charter - £650 for up to 5 guests, thereafter £125 per person.
The price includes snacks, buffet lunch, soft drinks, hot drinks. A complimentary glass of champagne and a time to scatter the ashes.
Departure and return from Poole Quay 9.30am - 5pm
With our full day package you will have all the elements of our half day charter with additional time to explore and a full lunch.
Snacks and drinks will be available all day Departing from Poole Quay after getting settled aboard and a quick safety briefing, we will head off to the vast natural harbour and explore.
Once underway our crew will offer drinks and snacks and make you feel at home and relaxed. We will head out of the harbour towards Swanage past Studland bay and Sandbanks From here and depending on conditions we are happy to go on from Swanage exploring the Jurrasic coast or take a swim or just relax some more.
It all depends on your group and timings We will anchor for lunch before heading off toward Brownsea Island in the afternoon to explore further.
To arrange a charter
To enquire of availability and to receive a written estimate, please contact your Douch Family Funeral Director in Dorset, email [email protected], or complete the enquiry form below.
Kindly note that plastic flowers or fresh flowers wrapped in plastic will not be allowed to be dispersed at sea, bio degradable or fresh flowers only.