Douch & Small Funeral Directors
Wimborne
Our local independent funeral directors in Wimborne offer a friendly and confidential service. We can be found in Leigh Road, which is on the one-way system just past Sturtons and Tapper Home Furnishings and before Boots the Chemist. Off road parking is available. We are here to help any time of the night or day.
Call us today 01202 882 936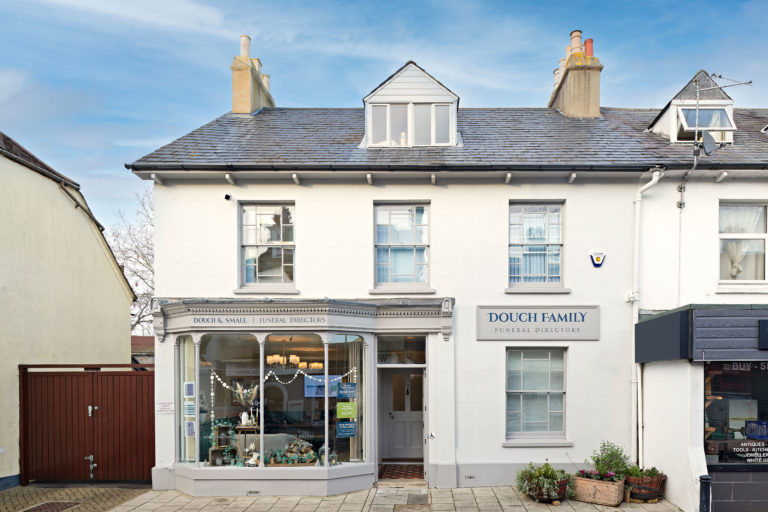 ---
JUST GIVE US A CALL FOR FRIENDLY HELP AND ADVICE.
Whatever hour of the day or night you need us, we're here. We can talk in the comfort of your own home, or if you prefer to come to us, we'll make you feel at home in our pleasant offices in Leigh Road, Wimborne.
You have to make a lot of decisions when you're planning a funeral. We understand that this might be the last thing you feel like doing when you're grieving. That's why we make it as easy as we can for you, giving you lots of help and good advice. Our team at Douch Family Funeral Directors have had full training to provide care, support and ensure sensitivity.
The Douch and the Small families have been helping local families arrange funerals as funeral directors in Wimborne for over 100 years. Using all our experience, we'll help you arrange a unique funeral service that reflects the personality of your loved one.
PLANNING AHEAD
It might sound strange but it's a really good idea to plan your funeral in advance. If it's all planned and paid for in advance (at today's prices) it's a tremendous relief for your loved ones when the time comes. You'll have spared them the stress of deciding how to arrange your funeral, from the funeral flowers to the burial service and how to pay for it. Come in to Douch and Small funeral directors and we'll talk you through the details.
DORSET COMMUNITY
Wimborne is where it all started for Douch Family Funeral Directors. Our family company was founded in 1910, so we are established as part of the community in Dorset. Our history is very important to us, as are the services and support we offer to those in the community. Organised by our funeral directors in Wimborne and our other local branches, we run local events, both for widowers looking to connect with others to those looking to meet likeminded people.
Visit Douch Family Funeral Directors in Wimborne today to chat through our services in a safe, comforting and welcoming environment.
---
Simply search the diary by name to find details of the funeral in Dorset you wish to attend. You can leave a message in the book of condolence, as well as find information about flower and donation wishes.
---
Gallery