Lesley Shand Funeral Service
Blandford
Our local independent funeral directors in Blandford offers a friendly and confidential service. We can be found on East Street's one way system just before the Town Centre. Off Road car parking available. We are here to help any time of the night or day.
Call us today 01258 453 425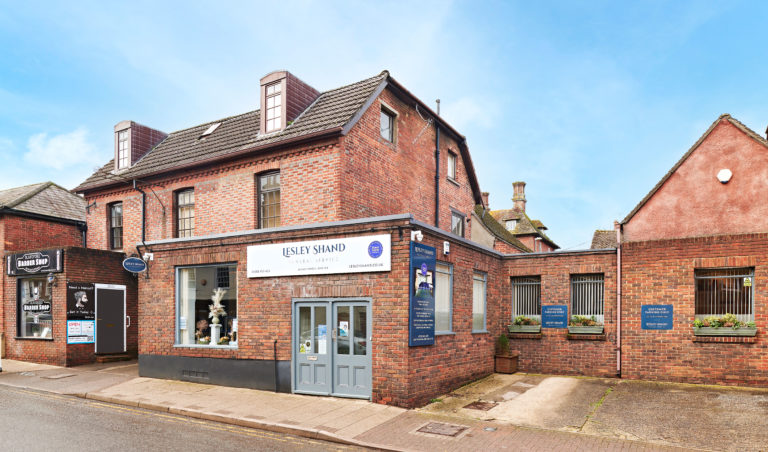 ---
Call Us Anytime. We're Always Ready To Help.
You can call our team at Lesley Shand Funeral Service in Blanford day and night to help you through a difficult time. We have been taking care of people in Blanford and the surrounding areas since 1922.
We understand that funeral arrangements involve making a lot of decisions, so we want to make things as easy as we can for you. We will guide you through the whole process to make sure all your funeral wishes are fulfilled. At Lesley Shand Funeral Service in Blanford, we offer several types of funeral services, including cremations, non-religious funerals and woodland burials.
When you need us, we can visit you in the comfort of your own home or take good care of you in our comfortable and quiet offices in Blanford. Wherever we talk, you can always rely on our discretion and compassion.
We also offer pre-paid funeral plans.
Personalised Funeral Service – A helping hand at your time of need
When you have recently had a bereavement, we are there to provide you with all the help you need – and as many cups of tea or coffee as you want..
We understand the importance of creating a personalised funeral experience and we are dedicated to offering bespoke funeral packages. We can assist you in adding a personal touch to our services including semi-religious, non-religious funeral services and cremation memorials.
At Lesley Shand Funeral Directors we ensure a high level of care of your loved one during their stay with us. Our Chapels of Rest are open for family and friends to visit any time during working hours. To visit outside of these hours, give us a call to make arrangements.
Giving You the Choice
Many people don't have a traditional faith and, until now, their only option has been to have a service in a crematorium. That's why at Lesley Shand, we have our own service chapel on our premises in Blandford. We can hold services with or without religious content.
Because it's our own chapel, you can choose who conducts your service; whether it's a family member, funeral director, humanist minister or religious leaders. Our service chapel can host up to 40 people.
To make things easier during this difficult time we have put together a range of funeral packages to suit every budget, helping you to create a dignified funeral service. Lesley Shand in Blandford accommodate all types of funerals, so there is no restriction to how you honour your loved one.
Private Ceremony Room
As local funeral directors, Lesley Shand Blandford, are committed to maintaining the privacy of each individuals funeral. We understand that sentimental moments shared between families must be respected, which is why we have our own private ceremony room. In particular, when commemorating a loved one, funeral services and ceremonies bring on a wealth of emotions which not everyone feels comfortable showing.
As a result, we want all those using Lesley Shand funeral services to have an optional private space for commemoration. The private ceremony rooms Lesley Shand offer is at no extra cost, so people can use these freely upon booking.
Making Plans
You may not know that you can plan your funeral in advance with pre-paid funeral plans at your local funeral directors. A pre-paid funeral can offer financial and emotional respite for your loved ones when the time comes. Visit Lesley Shand in Blandford, or your nearest Douch Family Funeral Directors branch to learn more about how we can help you.
Local Funeral Directors
Douch Family Funeral Directors is a family run business with multiple branches across the Dorset county. This is to enable residents from all over Dorset to receive our first-class standards, alongside our compassionate and confidential funeral services. Take a look at our branch locations to discover which local funeral directors is closest to you.
---
Simply search the diary by name to find details of the funeral in Dorset you wish to attend. You can leave a message in the book of condolence, as well as find information about flower and donation wishes.
---
Gallery