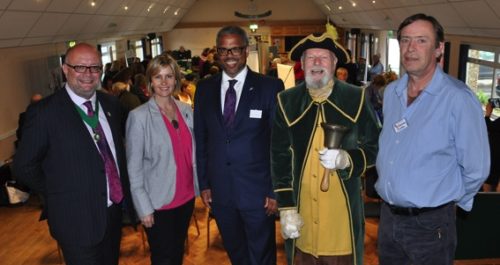 ---
A 50 plus information day held in Ferndown proved a huge success with over 250 people visiting the Royal British Legion.
The event was organised by Douch Family Funeral Directors in Dorset following the success of a previous 50 plus event held in Broadstone.
Town crier Mike Andrews – a former world champion – helped drive the crowds to the legion in Church Road and deputy mayor Cllr Steve Lugg opened the event.
Dozens of exhibitors showed what was available for the more senior members of the town; this included sports, health, financial advice, horticulture and modelling.
There was free tea and biscuits, a free raffle and the fire brigade along with POPP (Partnership for Older People Programme) gave out over 100 pairs of free slippers.
The footwear has been proven to help prevent trips and falls in the home.
Popular despite the weather
Staff from AE Jolliffe & Son, Douch Family Funeral Directors in Ferndown, were busy helping the visitors.
Emma Regan, who organised the event, said: "After our last over-50 event proved so popular we decided to hold another.
"It was held in conjunction with the Royal British Legion and AE Jolliffe & Son was our local supporting branch.
"The weather was awful but it didn't stop people from coming along in droves.
"We had nearly 40 stands with a wide variety of things on offer and a real mix of exhibitors."
Douch Family Funeral Directors have 8 branches that offer a range of funeral services in Dorset. Learn more about our upcoming events or get in touch with your local branch.