New Corfe Mullen Funeral Directors Building Work Underway – June 2017
---
Blog – June 2017
June has been a very exciting month for all of us at Lesley Shand Corfe Mullen funeral directors.  Not only have we moved across to our temporary premises but Shane and I were interviewed on The Breakfast Show on Hope FM at the beginning of the month!
We chatted to Paul Kinvig about the new building and how the move to our temporary premises was going. It was a really fun experince…if a little nerve-wracking. Before we went on the show we  were both asked to choose a song to be played that means something to us.
Shane picked Seasons in the Sun by Terry Jacks as it reminded him of his childhood and being with his father and brothers.
I chose Send Me on My Way by Rusted Root. I picked this song because it is so joyful. Whenever I hear it I always think about my mum and my sister.
The Temporary Office
We have been in our temporary office for just over a week now and operations are running smoothly. It is great to be able to watch the progress on the new building across the road.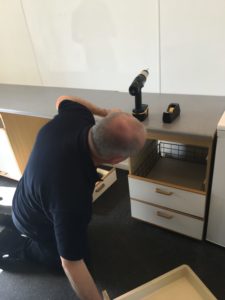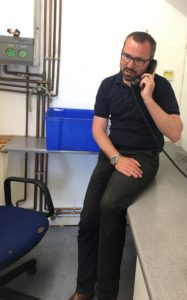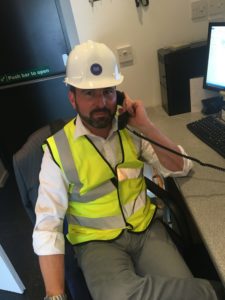 Shane and Frazer have been busy putting up a camera so we can watch the building take shape….hopefully we will have more news on this soon!
Learn more about Douch family funeral directors in Dorset, or find your closest branch.
Thank you for keeping up with our Blog….There will be more to come!