A blog by Patrick Sylla, age 19, an Olympic hopeful long-jumper who we are sponsoring.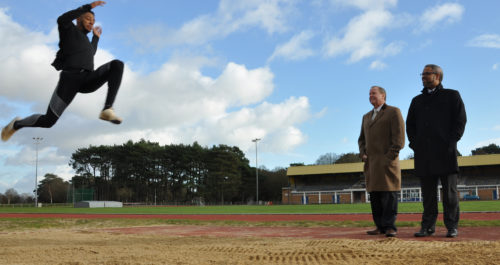 ---
Training so far…
I have been in full winter training since the end of the last outdoor season and, touch wood, haven't had a major injury.
At the end of the last season I weighed 88kg and wanted to reduce my weight without sacrificing my strength.
Previously when I lost weight my strength dipped and the distances I jumped became shorter.
However, this time I lost weight more slowly and have got down to 76/77kg – and am lifting just as heavy weights.
Changing habits
I also changed the way I ate – I now have a small breakfast, dinner during the day that gives me the carbs I need for training, and a small carb-less evening meal.
My day time meal could contain brown rice, couscous plus chicken – and in the evening I might have meat and vegetables.
Jumping is a balance between weight and strength and I feel that I now have that balance, although it requires constant work.
I train twice a day, six times a week. In the morning I might do circuits and then in the afternoon or evening session I might do weights, running or jumping.
During a day I have to drink between three and four litres of water to stay hydrated because if I don't I know my legs can tighten up.
At my last event, the London Indoor games, I wasn't at my best, but still managed to win it.
There I jumped 7m 16cm, some distance below my personal best of 7m 51cm.
I am now starting to look ahead to the outdoor season and the Loughborough and Manchester open invitation meetings.
There are no major championships this year, but I will be looking to work my way up the senior rankings.
Up until now I have been in the top two jumpers in every age group, but there is quite a jump to senior level.
Family support
I am a full time athlete and the career demands sacrifices; I don't drink or go out with my old school friends very often.
My family are all sporty so they understand and my girlfriend Venus is my coach's daughter so she knows what I have to do.