Years of dedication earn Hazel a Diploma in Funeral Directing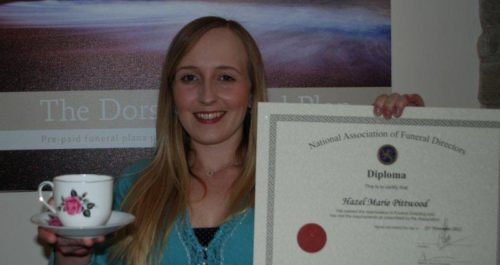 ---
A teenage ambition to become a fully qualified funeral director has come true for Hazel Pittwood nine years after she first had work experience with a local firm.
The 24-year-old who went on to gain an apprenticeship at Ives and Shand Funeral Service in Parkstone has just gained a Diploma in Funeral Directing after two years of correspondence study.  Aged just 15 she spent two weeks on work experience with the firm's sister company Lesley Shand Funeral Service of Corfe Mullen.
She said: "It was an unusual career choice but I was drawn to the idea of helping people in their time of need.  Arranging a funeral service for someone's loved one is a very practical way of bringing comfort and support.
"Having joined Ives and Shand as an apprentice I've learnt about many different aspects of the profession; gaining my diploma and becoming a fully fledged funeral director has given me the knowledge and confidence to assist families with their individual and varied needs.
"Now that my studies are finished and I have more spare time, I'd like to focus my attentions on charity work and getting more involved with the local community."
Hazel recently signed up as a volunteer for Mosaic, a local charity that provides support for bereaved children, and hosted a fundraising coffee morning on 6th December.
Outside of work she's a member of a multi award-winning belly dance troupe called 'Divaz' and travels throughout the UK performing.
Hazel works at Ives & Shand alongside funeral director Marcella McDonagh and manager Shane Watson. She recently celebrated five years with the company.
Nick Douch, Managing Director of Douch Family Funeral Directors which incorporates Ives and Shand, said: "We're delighted with Hazel's achievement; she has worked extremely hard and deserves her Diploma. We offer extensive training opportunities to our staff and are currently supporting two more team members as they study for the Diploma in Funeral Directing."