Top cricket team chalks up four victories in July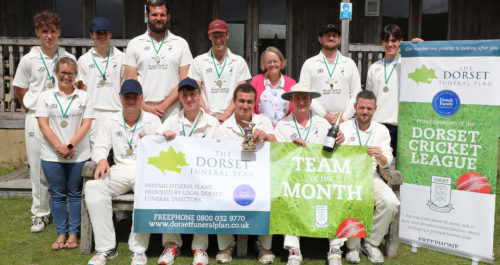 ---
Chalke Valley Cricket Club – team of the month for July
Chalke Valley Cricket Club picked up the July 'team of the month' award for the Dorset leagues – another trophy to go with their recent county T-20 title.
The Bowerchalke-based club defeated Abbotsbury, Sturminster and Hinton, Charlton Down and Wareham during the month.
Judy Douch from league sponsors 'The Dorset Funeral Plan' presented the team with a trophy, individual medals and a bottle of bubbly.
The club, which is just over the county border in Wiltshire, are now top of Division 3, pushing hard for promotion to the second tier.
Skipper Joe Weld has been dangerous with the bat and ball and Guy Souch, Max Mallinson and Max Dowling have scored plenty.
With the ball, Josh Goodchild, Will Senior and Rupert Thomas have been particularly dangerous, with all the fielders backing them up well.
Secretary David Brown said: "It's been quite a season with our T-20 title and now the team of the month award.
"There has been a lot of hard work put in over recent years and it is now paying dividends.
"Like all clubs in the league we're grateful to the sponsors because without them we are all poorer."
Judy Douch, whose family have a long association with the game in Dorset, said: "It's great to see a club join the Saturday leagues and progress so quickly.
"They are well deserving of the award with some thumping victories through July.
"I'll be checking results for the rest of the season to see if they gain promotion to Division Two."