Giving business a helping Shand
---
The chief executive of Dorset Chamber of Commerce and Industry has hailed the investment and innovation made by a growing family business.
Ian Girling had a tour of the new Lesley Shand funeral directors' branch in Corfe Mullen that has artfully combined tradition and modernity.
It is part of the Douch Family Funeral Directors group and the new facility replaced an old inadequate building.
As well as retaining the historic name and traditions, the branch incorporates technology that helps staff respond to the individual needs of clients.
Mr Girling said: "I went to visit the site when it was under construction and had no roof on so it was wonderful to see it completed and in use.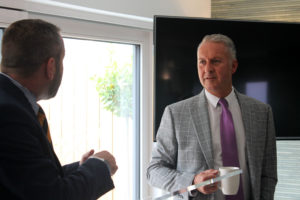 "It has a service chapel where families can hold funeral services and which also has modern audio-visual technology.
"I was amazed to learn how it allows loved ones to access a chapel of rest at any time by entering a code.
"Douch Family Funeral Directors have invested heavily in this facility that serves the community and which will be here for many years to come.
"The group really does respond to the needs of its clients and that was very clear."
Nick Douch, managing director of the group that has eight branches in the county, said: "We are extremely proud of our new branch.
"We have more than 100 years' experience and we used that to design the building.
"We also have identified trends within the sector and utilised technology to enable us to provide what clients want.
"The Douch name has been a part of the Dorset business community for more than a century and it was great to show Ian around the branch."